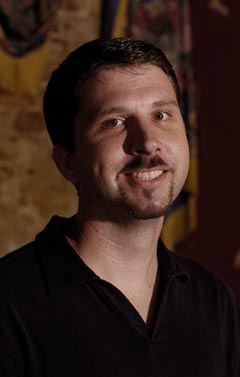 Greg grew up just down the road in Maryville, Wildwood to be more specific. He actually grew up working on a family farm, yeah, he knows he seems like such a good ole country boy. From animal husbandry he went onto graduate from UT with a writing degree and a smattering of stuff involving broadcasting and cinema studies, yeah, he knows he goes to a lot of movies. Currently Greg works in the lucrative world of local TV news, until he wins the lottery or other fiscal windfall occurs.
Greg's foray into the Comedy Improv world is one of growth and attrition. His first taste of it came from watching reruns of "Whose Line is it Anyway." He first heard of Einstein Simplified from Marshall, offspring of Bill "The Animal" Slayden, when they had a class together. After years of being a fan, taking Paul's improv class, one failed attempt at making the troupe, a short-lived improv troupe with some friends and actually missing the show for just this side of one year due to work conflicts, he finally made it onto the glorious stage.
Quoting the ever optimistic Greg, "Well dang, now the trick is to stay there!"